Sell Omnipod Dash 5 Pack Dash Pods
Sell Omnipod Dash
(5 Pack Dash Pods) Insulin Management System
If you want to sell your Omnipod Dash, We buy Ominpod Dash
NOTE To receive full price for your diabetic test strips Boxes
must have 10 months or more on expiration date
an boxes in mint condition.
Boxes with 7 to 9 months left on expiration date will be 1/2 price
Boxes would dings and small paper missing will be 1/2 price
We do not buy damaged or boxes with less than 7 months on expiration date
Please allow us to remove the prescription label off your diabetic test strip boxes we will destroy them for you
Business hours are 930 to 630 Pacific time Monday to Friday have questions call or text 310-892-2808.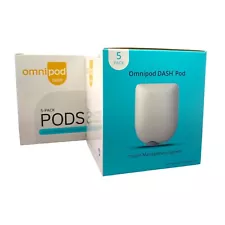 Sell Omnipod Dash Pods
Sell your Omnipod Dash Pods and earn extra cash for your unused and unexpired insulin supply, guaranteed top dollar for all your extra Omnipod Dash Pods. We offer an instant quote to give you a clear idea about how much your supplies are worth and help you streamline the shipping process.
We process and complete payment fast, by different means such as fund transfer, regular check, PayPal or Zelle within 1 business day of supply delivery. We pay in full for products with expiration not earlier than 10 months.
If you have any questions about our service, kindly head over to our FAQ page for clarification.
If you need additional questions answered, get in touch with one of our customer service representatives by phone at 310-892-2808.
Why Sell Your Unused Omnipod Dash Pods
Getting adequate insulin supply is a necessary step to effectively manage diabetics. While some patients get insulin supply products such as Omnipod Dash Pods with relative ease, others always have to pay hundreds of dollars to access these essential supplies.
Our mission at More Cash For Test Strips is to help those who can't afford these supplies from pharmacies get this important supply at an affordable price. We buy your extra Omnipod Dash Pods at best rates and resell to those who need them to live a healthy life.
Our professionals have experience to make the selling process incredibly fast, easy and efficient for you. We buy Omnipod Dash Pods near me, across the state and nationwide, paying cash for insulin supply pods. We combine our top rated customer service with fast payment to create a unique customer experience.
If you would like to sell your unused Omnipod Dash Pod, you can start by checking how much your supplies are worth. You will receive an immediate price quote and a Free Mail Kit to sell your insulin supply.
Need more information about selling your Omnipod Dash Pods to us?
Get in touch now
Frequently Asked Questions about Omnipod
Can you sell Omnipod Dash?
Yes! More Cash For Test Strips will pay you top dollar for your extra Omnipods Dash.
How do you dispose of an Omnipod?
You want to make sure you dispose of your Omnipods in an environmentally responsible manner.
Place your Omnipods in a plastic bag and seal it.
Place the plastic bag into the trash.
How many Omnipods are in a box?
Generally Omnipods are sold in either 5 packs or 10 packs.
Can I buy Omnipod without insurance?
Yes you can. The Omnipod insulin management system costs $800.00 for the PDM and $30.00 for each pod, which can carry enough insulin for up to 72 hours if not covered by insurance. Even while the PDM is a one-time purchase, the pods are not cheap and they definitely add up.
Can I buy Omnipods without a prescription?
No, you must have a prescription to purchase Omnipod Dash products.
BACK TO PRICE LIST