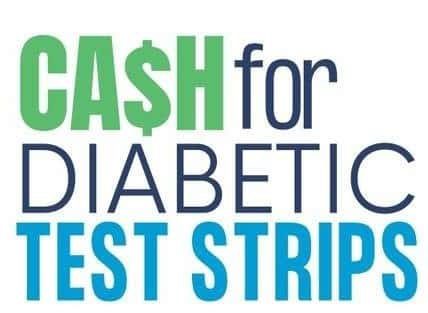 10 Reasons Why You Should Sell Test Strips for Cash to more cash for test strips
Posted on February 14, 2022 at 10PM
10 Reasons Why You Should
Sell Test Strips for Cash to More cast for test strips
Do you know that 11.3% of the US population has diabetes? That's approximately 37.3 million people. While 28.7 million have been diagnosed with the disease, experts believe that there are nearly 8.5 million people with undiagnosed diabetes in the country.
Apart from suffering from a multitude of complications, diabetes patients usually have another problem. They have to frequently check their diabetes levels and that means going to the clinic every time. Alternatively, many people use test strips that can instantly identify their body's blood sugar levels within a few seconds. These test strips are also expensive. Many people can't afford them. As a result, many people go undiagnosed for years.
If you have had diabetes, you would know how expensive the test strips are. But what if you have extra strips at home and you don't need them anymore? You shouldn't discard them or wait to discard them after they pass their expiration date. Instead, sell your extra test strips for cash and you may use that cash to buy strips and sell them again. It can become your way of giving back to society.
Selling test strips is a pretty straightforward process. You need to get in touch with a company that sells test strips for cash on your behalf. They collaborate with NGOs or non-profit companies to sell the strips at subsidized prices.
More cast for test strips will send has a registration form. It may ask a few personal details, along with questions like how many strips do you want to sell, if their expiration dates are near, what brand of strips do you have, and your preferred mode of payment. Sometimes, the companies may provide cash payment if you only have a few test strips to sell.
Once you fill out and send your form, the company will contact you and send a box. Pack your test strips in that box and ship it back to the address the company mentions. Don't worry; you won't have to bear the postage and shipping costs. The company will check your test strips after they arrive at the destination. You will receive your money as soon as the check is complete and the More cast for test strips is happy with the strips.
Sell diabetic supplies
Sure, cash is a rewarding incentive to sell your test strips, but imagine helping thousands of people who can't afford these strips. More than the cash, you will feel happier to make a difference in the lives of so many people with one kind deed. You can't imagine the blessings you may get from people who will be able to afford the strips, thanks to you. But why should you sell your test strips for cash? Here are a few reasons why people usually sell their test strips:
1. I have way more test strips than I need. They would go to waste if I don't use them.
Many brands provide giveaways as their primary promotional strategy. They offer free test strips or bulk of test strips for a small amount. If you had bought strips in bulk and you don't need all of them, you can sell the excess ones you have. Maybe their expiration date is getting closer and if you don't sell them, you may have to throw them away.
Most companies usually provide huge discounts if you bulk purchase your test strips. If you are clever enough, you can avail the discount, meaning you pay significantly less for each testing strip. Later, you can sell the extra strips for cash. That means you practically pay a nominal amount of money for the strips you actually use. Not a bad way to save money, right?
2. I switched to a different brand of meter recently and I still have a few test strips left of the previous brand. I don't want to waste them.
This is a common problem among many diabetes patients. With new technologies coming up every year, many people want to switch their meter brands. If you have also done the same thing, you can sell your previous brand's test strips to those who need them.
Instead of wasting the strips, you can contact a company that sells strips to underprivileged people. Make sure the strips are within their expiration date. Some people even have sealed boxes that they can ship directly to the company that sells test strips for cash. You may have the money to shift from one brand to another but think of those who can't even afford a basic diabetes test. Your strips will be a boon to so many people.
3. I had gestational diabetes earlier and bought too many strips. Now that I have recovered, I don't need the strips anymore.
Many pregnant women complain that they have diabetes during their pregnancy periods. This diabetes is known as gestational diabetes. It's quite common among pregnant women as the glucose level surges during the second trimester. However, the elevated glucose level comes down after you give birth to your baby.
Some women panic after they see such high blood sugar levels. You may order a few packs of test strips thinking that you would need them from now on. But this type of diabetes usually goes away after your delivery. As a result, you may have a large supply of unused test strips. Make sure you check your blood sugar level for at least two or three months after delivering the baby. Once it comes back to normal, you can sell the extra strips for cash.
4. My diabetes is well under control now and I don't need to test as frequently as before. As a result, there are too many strips left.
It's a great achievement to come out of diabetes and lead a healthy life. Sometimes, it takes years for people to get their diabetes under control. Regular exercise, a controlled diet, and proper medication can bring your blood glucose level down. Once the diabetes is under control, you may not need to test your blood sugar level as frequently as you had to before.
With too many strips in your kit, why waste them when you can get cash by selling them? You can still keep a few strips and sell the sealed boxes. Companies prefer buying sealed test strips and you can end up making a significant amount of money within a few days.
5. The pharmacy gave me a different brand of strips. Now that I want to return them, they won't take them. I now have a set of brand-new test strips that don't fit into my meter.
People make mistakes. That doesn't mean you need to pay from your pocket to compensate for those mistakes. If the pharmacy is refusing to take the test strips that they had mistakenly sold, you can sell them to a company that provides these strips to underprivileged people who can't afford them.
Most pharmacies usually have a return or replacement policy, provided you don't break the seal of the box. If you happen to open the box and then find that it's suitable for a different brand's meter, then the pharmacy may not agree to return or replace the strips. That shouldn't be a concern since many companies accept unsealed boxes of test strips. The only thing you need to keep in mind is to pack the box carefully so that the strips don't fall off in transit.
6. One of my family members who had diabetes just passed away. There are many test strips left that no one else in our family would need. This is another common problem among people who have high blood sugar levels. It leads to various health complications like high blood pressure, anxiety, stress, stroke, and even heart attack. If anyone in your family had diabetes and the person passed away, you can sell the unused test strips.
It's sad to never see that family member again, but you may feel better if you made a small difference in the life of a person who needs the test strips. Even if you don't need the cash; do it for the person that left you for the unknown. It would be the ultimate tribute.
7. I ordered the wrong brand of test strips accidentally. The store is refusing me to return or replace them.
Mistakes happen. Suppose you had ordered the wrong brand of test strips that sound similar to the brand that your doctor had recommended. You now have extra test strips that would go to waste because the pharmacy won't allow you to return.
It's better if you sell the strips for cash. You will at least cut down some of your financial losses and have enough money to order the right test strips.
8. Earlier, I had Type I diabetes. I underwent a transplant, after which I no longer require the testing supplies.
Islet cell transplantation may treat Type I diabetes. It involves placing the cells of the organ donor into your body to ensure that your diabetes level remains under control.
Your body has a high blood sugar level if the beta cells in the islets cannot make enough insulin. Medication may control your diabetes but it can't get rid of it completely. Islet cell transplantation may prevent Type I diabetes from affecting your body for a long period. If you have had such a surgery recently, you may not require the testing supplies anymore. Sell them to at least get some cash that can compensate for the surgery expenses. Every penny counts and you can make money in a flash if you sell the testing strips that you don't need.
9. I already have a glucose monitor that continuously tests my blood sugar level. That's why I don't need the test strips anymore.
A blood glucose monitor continuously checks your body's blood sugar level. It's quite helpful, especially if you have Type II diabetes. Excess stress levels or anxiety may skyrocket your blood sugar level, so much so, that you may faint. If you have had such episodes before, it's better you use a glucose monitor as it can continuously test your blood sugar level from time to time, thus eliminating the risks of fainting.
Using a glucose monitor and test strips simultaneously doesn't make sense. It's better if you sell the strips and make some money out of them. You can use that money later to buy an advanced monitor with the latest features.
10. I received these test strips from diabetes representatives. They were for a promotional offer. I don't have diabetes, so I want to give the strips away to those who genuinely need them.
Many companies provide test strips to people to make them aware of diabetes. As already mentioned, approximately 8.5 million people still don't know that they have diabetes. It may be because they didn't ever test or couldn't understand the typical symptoms that diabetes patients talk about.
Representatives from companies that sell test strips often visit homes to not only make people aware of diabetes but also encourage homeowners and family members to take the test. If you have a bundle of test strips from different brands in your home that you don't need, you can sell them to a company that would pay you cash in return. Imagine earning a handsome amount of money from items that you had earlier received as a gift or promotional item.
Make sure you don't open the leaf of the strip. Keep them intact and in a box under the mentioned temperature. Pack them carefully in the box that the company sends. You can expect them to send the money soon after they receive your package.
There are many ways to help underprivileged people in your society. You may not have the money to help them, but it's your heart that matters the most. If you sell your extra test strips to people who can't afford them, you may help save the lives of so many that may otherwise die undiagnosed and untreated. Therefore, find a company that provides